Tis' the Season to Plenty of Yellow!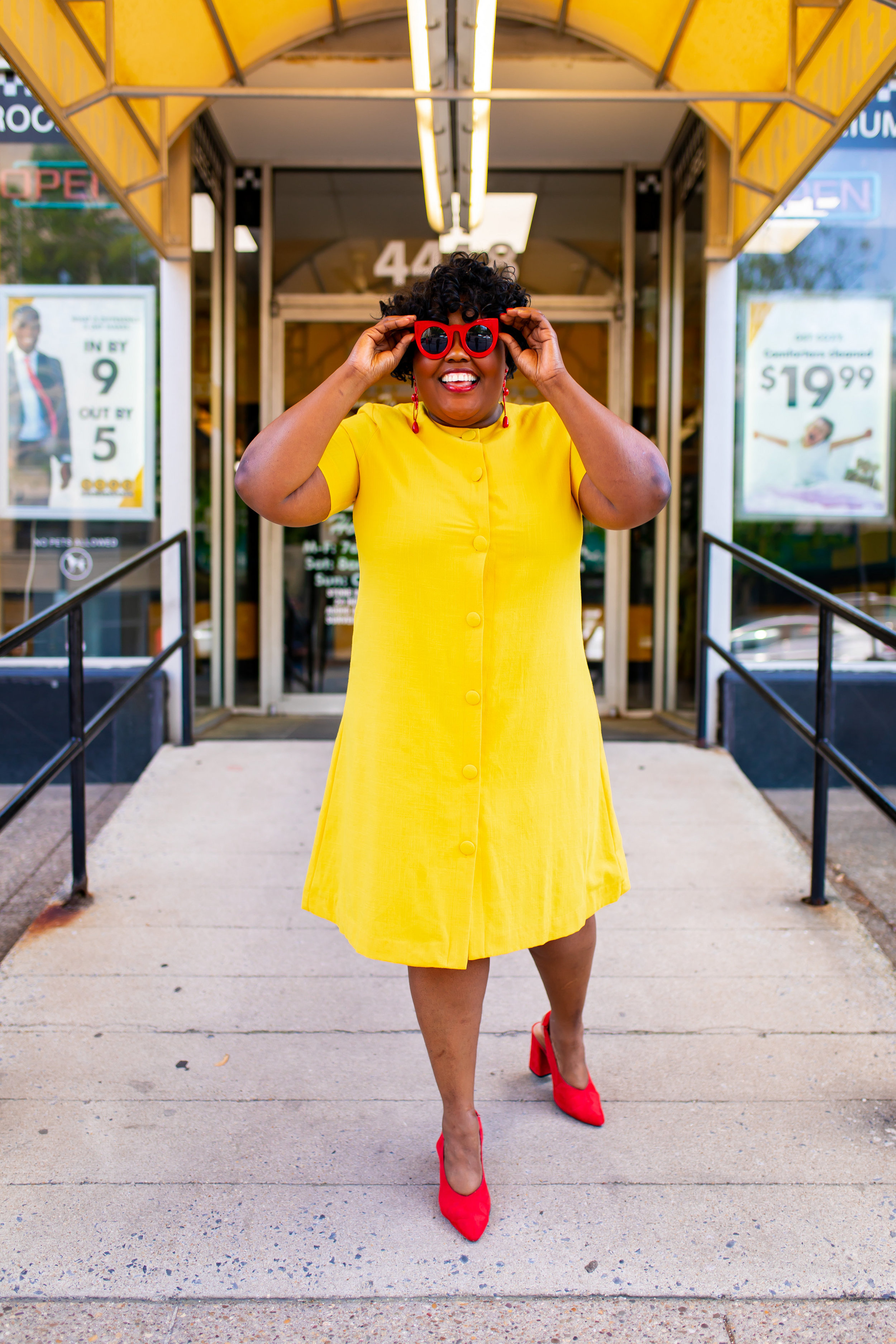 Tis'the Season for Plenty of Yellow!
Chatting about one of my favorite bold yellow MTYA dresses!
How often do you get approached by someone and they say, "That color looks so great on you!" That color has been yellow for me and I can't lie, it's absolutely one of my favorite colors (besides purple). When I selected the Ray of Sunshine Bold Yellow Dress for More Than Your Average, I selected it because of its bold presence, detailed buttons, linen material, internal shoulder pads, and flare! A solid colored bold dress like this is perfect for pairing with bold accessories, layering with other fun apparel selections, and more additions throughout the Spring and Summer seasons. I knew EnjoyCurves would "enjoy" being styled in this dress because of her bubbly personality, kind heart, and loving spirit. Just the perfect match for yellow, which signifies freshness, happiness, energy, optimism, joy, and honor. That's why in today's post, I'll showcase how I styled MTYA's Ray of Sunshine Dress three different ways by pairing a number of bold accessories to keep this dress bold, energized, fresh, and fun!
In taking the the Ray of Sunshine Bold Yellow Dress from one event to the next, I simply pair a bold statement red hat with this dress to give Joy's overall look more appeal. Instead of neutral tones, red allows this dress to speak for itself with its contrasting color along with bold personality. In addition to pairing a statement hat, I've also paired red statement block heels as well to compliment the overall aesthetic of this dress. In considering other colors to style with this dress, I would choose bold pink and/or emerald green throughout the Spring and Summer months.
This overall look definitely screams brunch with the ladies and date night! For this look, I've styled the Ray of Sunshine Bold Yellow Dress with rainbow inspired accessories to give a relaxed and casual feel. With this look, you'll note that Joy is holding a rainbow clutch, which is a wonderful accessory for carrying on the go when you are trying to get one from brunch date to the next. In addition to her rainbow clutch, she is also wearing rainbow statement earrings to match. If considering other casual accessories aside from rainbow selections, consider styling this dress with a solid colored clutch and/or statement earrings or multi-colored statements (as pictured). Either way, your overall look with scream bold, but casual!
Accessorizing looks can be as simple as pairing a statement pair of sunglasses with a dress! As you can see, Joy has rocking a pair of red statement sunglasses with the Ray of Sunshine Bold Yellow Dress to change up the entire look. The reason why I'm focusing red sunglasses, because the red in the shades allows the overall bold yellow dress to pop! If considering other shade colors and/or shapes to pair with this dress, consider pairing a pair of statement pink, emerald green, light blue, and/or neutral colors such as white or black. Which shade(s) of sunglasses will you choose?
I hope these look inspire you to think of different ways to style your bold yellow dress(es) and to shop the Ray of Sunshine Bold Yellow Dress now on the MTYA website. I know you've fallen in love with this dress, so that's that's why I'm offering 20% OFF (this week only!). Shop it now and entire: LOVEYELLOW at the checkout!
Until next time,
Mya-